Do you have time to read everything that comes across your desk and through your computer word for word? Most of us would say no.
I scan business documents before I decide to read them. I try to glean the key take-aways from each document by reading titles, looking at pull quotes, and concentrating on the first sentences of paragraphs.
Because of readers like me, you need to do whatever it takes as a writer (and as a formatter) to make it easy for the reader to get to your core message.
How many hurdles are you making your reader jump over to get at your message? Here are 7 hurdles you might want to remove: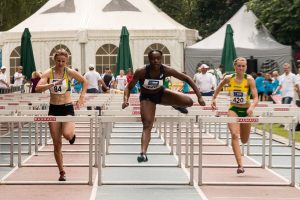 Hurdle #1: Gotcha Auditing
Some audit shops have a reputation for creating unpleasant, harsh reports. These auditors approach auditing as they would a hunting expedition — focusing on bagging the big findings. Being an unreasonable auditor is a hurdle that even good writing won't overcome.
But other audit shops are known for being concerned professionals. Their audit reports are more likely to be read because the reader trusts what they have to say.
Hurdle #2: How You Have Treated Your Reader in the Past
Once, I worked as a controller in a huge accounting department. Right before I got the job, the organization had updated its general ledger software, and the transition was a mess. The IT department sent all the users massive memos explaining the glitches. And they seemed to send something every week.
Because I was new to the job, I read everything that came into my mailbox, including these lengthy IT memos. After several months, I finally realized that no one was referring to them or discussing them. The memos didn't come up in our team meetings, either.
I asked Cindy, a co-worker, what she did with the memos. I thought Cindy was my friend, but in order to save face, she lied to me and said that she read them. Another colleague told me the truth a few months later; everyone kept the memos from the IT department in their filing cabinet in date order. If the accountants ever had a problem, they would call IT and IT would respond, "We told you about that in a memo dated October 17, 1992."
From then on, I filed any memo from the IT department in my filing cabinet in date order. They could have written to tell me that my leave had been terminated, that my pension was canceled, that my house was on fire, and I would have filed it. I no longer trusted them and no longer made the effort to read their stuff.
If you suspect that your writing is being stored instead of read, you may have to shake things up quite a bit.
If you have been taking your reader for granted by rambling on and on about stuff that no one cares about, if you have created ugly, unappealing formats for your documents, or if your reports have been too little, too late, you are going to have to show the reader that this is a new day and a new approach. And that may involve creating a whole new audit report format: a new look and feel. This will temporarily catch their attention and wipe the slate clean of your past mistreatments.
And that segues nicely into the third hurdle…
Hurdle #3: The Format
Are you still using Times Roman font or a template for your report that was created sometime in the 80s? Time to put some lipstick on that pig!
Format is the last thing you may do in the writing process, but it is the first thing the reader will notice.
While I am on the road, the hotels in which I stay typically offer both the Wall Street Journal and USA Today. I feel that I should read the Wall Street Journal because I am a CPA, but I always pick up USA Today. I choose USA Today because of the format: the color, the large font size, the titles, the pictures, and the graphics.
The Wall Street Journal's articles are great, once I get over myself and actually read them. But the format is a hurdle that some mornings I don't feel like jumping.
Is it hard to create a USA Today look for your own audit report? Nope. Not at all. I've used the services of graphic designers on 99 Designs many times to help me make my writing pretty, and the expense is minimal.
Hurdle #4: The Weight
Are your reports long? Some audit shops regularly create reports that are 20 or more pages. And, their executive summaries are four or more pages!
A long document can obscure your core message.
In the 1980s, 400 banking executives participated in a little experiment. These 400 executives were sent a routine three-page memo. In the middle of the second page, one short sentence told them that they were entitled to a gift certificate. All they had to do is call to have it mailed to them.[1]
How many executives got the gift certificate? Just 14 out of 400. And they don't think it was because all of them read that far; they think just one guy read it and told thirteen of his buddies.
Hurdle #5: The Title
Which one of these titles compels you to read a report?
Report #279
Report on Purchasing Regulations
Report on Internal Controls over Purchasing Regulations
Purchasing Regulations Audit Report
7 out of 10 Purchasing Regulations Not Followed
It's the last one, right? Think about newspapers again. The titles of newspaper articles are mini-sentences with verbs and descriptors. I'm not coaching you to be sensational; I'm just encouraging you to use interesting titles to draw readers in.
The most popular business blogger in the US encourages writers to create 100 titles for each blog post. It only takes about 15 minutes. And when I take the time to do that, the 'shares' and 'likes' on my blog posts go up exponentially.
Hurdle #6: The First Paragraph
So, the harried and tired reader has jumped over all the previous hurdles. Whew! I wasn't sure they were going to make it.
And now they get hit with the first paragraph — oh no! It covers the background information about the history of purchasing laws in the state of Maine. How boring can you get?
Please start your report with what the reader wants to know. Yes, they may need some background on the audit subject. And if they need it, they can find it – in the BACK of the report where it belongs.
Another common first paragraph contains the scope of the examination: "We examined the purchasing records of the State of Maine from December 31, 2018, to December 31, 2019…" Another snoozer.
Unfortunately, auditing standards, especially AICPA auditing standards, seem to encourage us to start with the most boring stuff. "We followed auditing standards promulgated by the American Institute of Certified Public Accountants…" Blah, blah, blah. Yes, you may be required to use that boring, canned language somewhere. But no one ever said it had to be the first thing the reader sees! Maybe you'd be better off hiding it, or at least presenting it later.
Hurdle #7: The Logic / Organization
After helping the reader jump over all of the other hurdles, you need to keep the reader going by organizing your ideas in some sort of logical sequence.
One of the best ways to give your report a logical structure is to use the elements of a finding required by the GAO's Yellow Book and recommended by the Institute of Internal Auditors in their International Professional Practices Framework.
Want to come up with more new ideas for grabbing your reader's attention? Attend The Audit Reporting Clinic in Austin this April.
[1] Hershkowitz, Sue, "Mastering Communications—It Takes More than Just the Technology."Procomm Magazine, March 1990.