Your word choice can mean the difference between readers taking your audit recommendations seriously and blowing you off.
Here is an example of how the National Weather Service used strong words to warn the city of New Orleans about Hurricane Katrina. The following is an excerpt from a Vanity Fair article entitled "How New Orleans Drowned," from June 2006:
Sunday, at exactly 10:11 a.m., as winds accelerated to 175 m.p.h., an urgent National Weather Service (NWS) advisory was sent to media outlets and government officials. There was very little sober science about it, only savage imagery, like some white paper by the way of Dante's Inferno:

HURRICANE KATRINA … A MOST POWERFUL HURRICANE WITH UNPRECEDENTED STRENGTH.… MOST OF THE AREA WILL BE UNINHABITABLE FOR WEEKS … PERHAPS LONGER … AT LEAST ONE HALF OF WELL-CONSTRUCTED HOMES WILL HAVE ROOF AND WALL FAILURE. ALL GABLED ROOFS WILL FAIL.… ALL WOOD FRAMED LOW RISING APARTMENT BUILDINGS WILL BE DESTROYED…POWER OUTAGES WILL LAST FOR WEEKS.… WATER SHORTAGES WILL MAKE HUMAN SUFFERING INCREDIBLE BY MODERN STANDARDS.… FEW CROPS WILL REMAIN. LIVESTOCK LEFT EXPOSED TO THE WINDS WILL BE KILLED.…ONCE TROPICAL STORM AND HURRICANE FORCE WINDS ONSET … DO NOT VENTURE OUTSIDE!

 Robert Ricks, a forecaster at the NWS's office in Slidell, Louisiana composed the impassioned, unconventional advisory. Ricks was the hurricane's Paul Revere. For his wording, he relied on a NWS collection of phrases recommended for hurricane bulletins, many of which had never been used before. Ricks, who had grown up in New Orleans's Lower Ninth Ward, had drafted a text that created an apocalyptic picture anyone could understand.
Now, what does the notice do that makes it so real, so compelling? The Weather Service's word choice. The following words and phrases are dramatic and scary: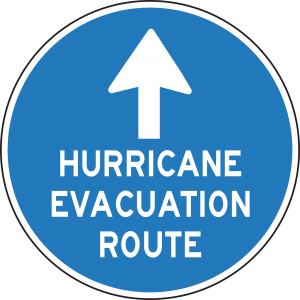 Powerful
Unprecedented
Uninhabitable
Failure
Destroyed
Shortages
Suffering
Incredible
Killed
Do not venture!
Yep. It did the trick, while previous warnings from the Weather Service to evacuate got very few people's attention.
The reason I included that excerpt from the Vanity Fair article is not to encourage you include those dramatic words in your audit report (unless they are warranted!), but rather to draw your attention to the following audit terms that are supposed to indicate the severity of an issue to the reader:
Auditors have a hierarchy of terms to indicate severity
Let's say you found something that deserves attention in your report. The following terms are commonly used by auditors to indicate the severity of an issue. These terms are listed from most severe to least severe.
Material weakness: This is like saying, "Your mama!" in auditor-speak! It is the most severe title we can give an issue.
SAS 115 contains this definition of the term "material weakness":
A material weakness is a deficiency, or combination of deficiencies, in internal control, such that there is a reasonable possibility that a material misstatement of the entity's financial statements will not be prevented, or detected and corrected on a timely basis.
But I am afraid that many readers don't even know we are casting shade when we use this term because it doesn't sound any worse than the next category, significant deficiencies.
Significant deficiency: This is like saying, "Your sister!" in auditor-speak. Insulting but not intended to be as severe as a material weakness. Most clients won't be able to distinguish it from a material weakness.
SAS 115 contains this definition of the term "significant deficiency":
A significant deficiency is a deficiency, or a combination of deficiencies, in internal control that is less severe than a material weakness, yet important enough to merit attention by those charged with governance.
And those aren't the only two categories for issues that auditors use in their audit reports. Here are other less severe category titles, in order of their severity from most severe to least severe:
Reportable condition:This is a more generic term for any condition that ends up in the audit report. (Get it? Report-able condition?) 🙂 The three types of reportable conditions, per Yellow Book standards, include fraud, internal control weaknesses, and non-compliance.
Finding: This is a commonly used auditor term, but some audit teams don't use it because it sounds like the auditor was searching for (trying to find) something negative to say on purpose.
Issue: Some teams use this term instead of findings, but it also has negative connotations because of commonly used expressions such as "so-and-so has 'issues,'" and "someone has taken 'issue' with you."
Opportunity for improvement: This is another synonym for a finding, but it sounds sounds mildly patronizing – sort of like the last evaluation I received.
Observations: One of two things can cause an auditor to include an 'observation' in their audit report. One, the auditor doesn't think the issue rises to the level of a reportable condition or finding. Or, two, the team sees something out of their scope, but still feel like they should say something about the issue in their report. By including a section entitled 'observations,' the auditor doesn't have to gather as much evidence to support the observation as they would have to do with a finding or an audit conclusion.
Word choice, whether you are trying to get people to evacuate or take action on your audit findings, does make a difference.
Want to learn more about findings and reportable conditions? Join Leita in April for the Audit Reporting Clinic.