You have to talk to members of the target audience for your audit report to find out what they care about.
Yes. Talk to your readers. No. I am not crazy and you, deep down, know that I am right. I had to learn this the hard way from a radical guy named Brad.
Early in my career as a legislative auditor, we underwent a change in leadership. And a new crop of unusual leaders was hired.
One of the new leaders, Brad, noticed that it took months for us to get our reports out. And he noticed that the legislature wasn't responding to or acting on our recommendations. He pointed out that we were kidding ourselves because we were ever so proudly sending 60-page reports to the legislature and waiting for their amazed and incredulous response. We foolishly expected the legislative building to rock off of its foundation with outrage, but nothing ever happened.
Brad was bold. And he wasn't just bold with what he said, he was also bold and unusual in other ways. He had a ponytail, wore hightops with his dress pants, and knew nothing about accounting. He held a master's degree in English, of all things. And he swore like a sailor. He was ahead of his time.
And he kept repeating, like a mantra, "Have you ever asked the clients what they want?"
And the response from our audit directors was either, "We have always done it this way," or, "We know what the customer wants; we don't have to ask."
Brad, the ponytailed English major, slaved over every audit report that went out and continued to express dismay that no one was reading the reports we had all invested so much time on.
After several months of Brad's prodding, the leadership finally agreed to let Brad visit the legislature to see what was happening to our reports and he found out that legislative aides were receiving a stack of mail three and a half feet high per day! (This is before email, obviously.)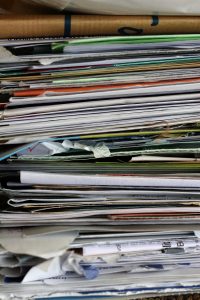 Where do you think our reports ended up in the stack? Well, they weren't at the top, because it took the legislative aides a long time to pore over the information in our 60-page reports to get anything useful out of them. One dedicated legislative aide spent hours writing executive summaries of our lengthy reports for his boss.
Create a report with layers
Needless to say, Brad's discovery made our leadership a little sad. We had been doing the wrong thing for so long that it was disheartening. Brad had an answer, however. He said that WE should be creating the executive summaries for the legislature. Duh.
Since then, the legislative auditor's report has been presented in layers – some of them thin, some thick. But never all at once because that would be overwhelming.
The legislative auditor begins with an email to interested parties to say that the office just issued a report. Here is an example of such an email:
The Auditor's Office has just issued a report on the Lottery Commission.
The Lottery Commission does not accurately calculate jackpots. If you want more information, click here.
Then when you click on the link, it takes you to another webpage that takes you to the next layer where you find one more paragraph with only four lines of detail. At the end of that paragraph, it asks you to click for further detail, and then you are taken to the next layer, a one page executive summary. When you are finished with the executive summary, you can click to the full report if you need it.
How friendly is that? If you don't want the detail, you don't have to deal with it.
Brad's radical ponytail ideas eventually won out. But they aren't that radical, just practical and sensitive to the reader's needs.
What might the audience want to know?
During your interviews with your readers, they might say they would like to know:
Are funds being spent in accordance with grant provisions?
Are we exposing ourselves to risk?
Are we getting the most value from our investment?
Are the financial statements accurate?
Tell the reader what they want to know IMMEDIATELY!
Whatever your target audience says, make sure that you tell them the answer as soon as possible in the report. Don't make the reader work for it, thumbing through that boring scope, methodology, and background. Background should go where its name implies — in the back!
The answers to these questions should be spelled out in the first sentence on the first page of the report.
You could even use one of the questions they want answered as a title and then answer it in the following paragraph. Here is an example:
Title: Are we in compliance with federal grant requirements?
Text: We are in compliance with federal grant requirements except in a few minor instances.
If someone is paying your salary, you should do your best to please them, right? And that means giving them the information they want in the manner that they want it.
Want to explore more ideas about audit reporting? Attend the Audit Reporting Clinic in April.