Let's go over the main steps of how to write an audit report executive summary:
Take a heavy dose of reality
Prepare before you start fieldwork
Warm up your pitch
Mix in key ingredients
Ask hard questions
Pretty it up
1. Take a heavy dose of reality
I hate to tell you this – but it is for your own good! – executives are NOT reading your whole report. Sorry, but they just don't have the time.
Because they have the power to make the changes you suggest in your report and you DO NOT have that power, you are going to have to swallow your pride and give them what they want, NOT what you want to give them.
Yes, that was hard to read (and not only because it was a complex sentence!), but let's face it, the executives you are trying to reach are more important than you. As Bob Dylan sang, you've "Gotta Serve Somebody."
2. Prepare before you start fieldwork
I suggest that you write the executive summary after you are finished with the planning phase of the audit. Yep. Before you start fieldwork. Begin with the end in mind as Stephen Covey likes to say.
This doesn't mean you can't change the executive summary as you progress through fieldwork. But writing it early will serve to focus your fieldwork. Ever have a problem with scope creep? Drafting the executive summary and outlining the audit findings at the end of planning are the absolute best weapons in an auditor's arsenal against scope creep.
3. Warm up your pitch
An executive summary is an 'elevator pitch' for an entire audit report!
What is an elevator pitch? It is a short, compelling summary of what you want someone to know. Yes, they are usually created by salespeople and consultants to sell something, but we auditors 'sell' too. We sell audit results!
This video about how to craft an elevator pitch is fun to watch.
To create an elevator pitch, you have to imagine yourself in the elevator with an important decision-maker who is headed to the top floor, and very shortly you are going to hear a "DING!" and your chance to share will be gone!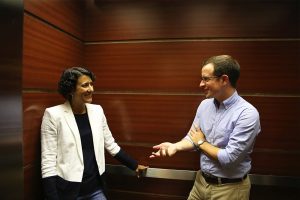 For instance, let's say you are in the elevator with Lisa Su, CEO at AMD, and you have twenty floors to tell her something interesting about an audit you are working on. Which of the following would be the most interesting thing to say to her?
Pitch 1: Accounting supervisors aren't signing account reconciliations
Pitch 2: The accounting department is not following policy regarding account reconciliations
Pitch 3: Accounting is unable to account for around $80K because they are not following policy
Pitch 4: I'm afraid we aren't capturing all customer receipts and vendor payments. Right now, accounting is unable to trace approximately $80K – from just this last week – and this is because the accounting supervisors are not reviewing and resolving issues highlighted by cash reconciliations.
If you tell her the first thing, she will probably get off the elevator and yawn. And later this year, when she is doling out the budgets for each department, she won't be generous with yours. The last pitch is the most likely to cause her to ask you to follow her to her office so you can tell her more. Yay!
4. Mix in key ingredients
Traditional executive summaries contain:
A conclusion that speaks to your audit objective
The summary of two or three of the most important issues and recommendations
A description of the significance of the issues and of the report itself
A summary of the client's response to the recommendations
A summary of the audit objective and scope
The first line of an executive summary should hook executives right away and interest them in reading further. I recommend that you bold it.
And I recommend extracting the condition and effect statement from the three most significant findings and place them in a bullet list in the center of the page. Eyes are drawn to bullets and putting them in the center of the page will grab even more attention.
5. Ask hard questions
After you've finished drafting the executive summary, ask these questions:
1. Is it as short as possible?
One of your audience's most fundamental needs is brevity, so the executive summary should be as short as possible. One page or less is ideal.
2. Does the executive summary use clear, direct, concrete language?
In other words, does your writing sound theoretical or real? Is the language academic or concrete? Sometimes in order to cut down the number of words in a document, we generalize until our writing is mush.
Academic & short: Controls over cash should be improved
Concrete & a tad longer, but much better: The accounting department cannot account for an average of $80K in sales each week.
3. Does the order of the detailed section mirror the order of the executive summary?
The sequence of items in the detailed section of the report must match the sequence in which the executive summary presents them. Otherwise, the reader may become frustrated if they end up looking at the detail and can't find what they are looking for because the order is scrambled.
4. Did you show them the money?
To really catch an executive's attention, make it about the money! You can quantify the error, the issue, or the area audited.
For example, on our cash-reconciliation finding, you can quantify the:
Error: The accounting department cannot account for an average of $80K in sales each week.
Issue: The main bank account processes 40,000 transactions a week and averages a balance of $1.8M.
Area: The bank account tracks payments by mail from domestic customers, which accounts for 40% of total corporate revenue. Mail payments account for 72% of domestic sales receipts.
5. Is it fair and reasonable?
Avoid judgmental, emotionally loaded language, such as poor, weak, and inadequate. You can avoid these terms if you simply say what is so and stick with the facts.
For instance, this direct but unemotional sentence: "The accounting department cannot account for an average of $80K in sales each week," can easily be converted into something emotional and insulting if you add the word 'adequately,' as in "The accounting department does not adequately account for an average of $80K in sales each week."
Also, avoid making a mountain out of a molehill. If everything is fine except for a few minor issues, go ahead and say so.
6. Pretty it up
Now that you have shaped the content of the executive summary for maximum impact, don't forget to spend a little time making it look pretty. Increase the font size, shorten line lengths, bold, add graphics and color. Format is the last thing you do, but the first thing the reader will notice.
How to write an audit report executive summary 
So that is a bit about how to write an audit report executive summary:
Take a heavy dose of reality
Prepare before you start fieldwork
Warm up your pitch
Mix in key ingredients
Ask hard questions
Pretty it up
I hope it was helpful. Write to me at leita@yellowbook-cpe.com with your comments. I'd love to hear from you.