So you want to know how to prepare for an audit interview? Easy. Learn some French!
OK, not French, per se. But learn enough about the client's language and culture that you don't make a faux paux (yes, that is French!) during the interview.
They weren't too impressed with me in Paris
My husband and I had a brief layover in Paris right after the 911 attacks. We were there on 9/14, in fact. I was so traumatized and self-concerned, that I imagined that everyone we met in Europe would be so sad about the attack that they would want to hug us. HA! Quite the opposite. No one was even the slightest bit deferential to us… because, as you know, we Americans are not exactly worshiped in Europe.
That was as silly as expecting the auditee to embrace you and kiss you on both cheeks when you show up to conduct an audit interview.
My ridiculous expectations were dashed right away when we got into a cab at the airport. We wanted to go straight to the iconic Eiffel Tower because we only had a few hours before we had to get back on the plane. I asked the cab driver to take us to the Eiffel Tower in English. He just hurumphed.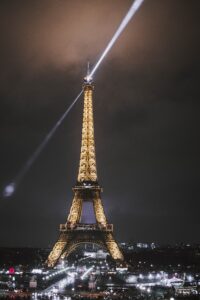 Then like a typical rude tourist, I asked him again, but much louder. This time he grimaced, but still didn't move.
So after a few beats, I realized that he wanted me to speak French. So I said, "Le Tour de Eiffel, por favor." (Hey! I took 4 years of Spanish in high school, OK?) At this point, he just wanted us rubes out of his cab and he started to drive.
You'd figure that after that little slap of reality, I'd learned my lesson about adapting to the environment instead of expecting the environment to adapt to me. But no! On my second visit to Paris, I used my standard greeting, "Hello! How ya' doin'?" to a distinguished Parisian walking his dog. He responded by glaring at me with disgust.
This is not what you want to happen with the auditee
No, the auditee isn't going to hug us when we show up to interview them, but we don't want them to curl their lip in disgust as if they smell something offensive when they see us either!
In order to start out on the best foot possible, I recommend that you learn the auditee's language to show the auditee respect. Just as basic phrases like "Bon Jour!" and "Merci!" will get you a long way with the French because they recognize that you are trying to show them respect, being aware and sensitive to the auditee's environment will earn you beaucoup points for in the auditee's emotional bank account.
You don't have to be fluent in French to make French warm up to you. And you will never be fluent about the auditee's world either. But you do need to be respectful and not blow in to the audit interview expecting them to speak your language and do all the work for you.
You are on their turf now!
What should you know before you meet with the auditee
So how do you prepare for an audit interview and show respect by learning a little of their language? You should walk in knowing:
Who else you have talked to. One of the most disrespectful things you can do is say, "Yes, I talked to that short little lady in the cubicle over there about this yesterday…" That short little lady might be your interviewee's bestie! Write down their names!
What their organization does and why they do it. You can find this out by looking at the "about" section of their website.
Who this person is and where they fit on the organizational hierarchy. Try to figure out who is the boss of who. They worked hard to rise in the ranks; show them that you acknowledge and revere that by knowing who they report to and who reports to them. Where are you going to find this? An org chart! Ask for a copy before you show up for your meeting. More about that in the next section.
What those whacky acronyms mean. All organizations have them. Keep a running glossary of terms so that you can refer to them to decipher what the auditee is saying and if you feel like showing off, use them in a sentence!
What your audit objective is. This is so you can confidently answer the question, "What the heck are you doing here?" The French knew I was there to eat croissants, so they didn't have to ask…
What you know about their personal life. If you did a good job building rapport with the auditee the first time you met them, you found out something personal about them. Maybe they were just about to take a trip or see a concert. Maybe their daughter was getting married. Take notes on these personal conversations and continue the conversation when you meet with them again. Say, "How did the wedding go? Got any pictures of the bride? I love looking at wedding photos."
Now don't worry about having to REMEMBER all of this stuff. Just write it down on your note pad or your iPad and take it with you.
The French don't mind if you have to look at your French translation book or your phone to talk to them. The French are pleased that you make the effort, just like your auditee will be pleased that you are bothering to take and refer to your notes about their environment.
Again, you don't have to be perfectly fluid… just show them that you are trying!
Basic things to look at before you meet
Try to gather as many of these items and study them for an hour or so before you meet:
Organizational chart
Prior-year working papers
Work of other auditors
Descriptions of the program under audit
Mission statement
Policies and procedures manual
Auditee's website
Key performance indicators used by the auditee
Process narratives/flowcharts
Key technologies employed
ERM documentation
Budgets and financials
Notes from your last meeting
You also want to know who requested the audit and why.
Don't trigger resistance
If you go into an interview having done zero preparation, expect the auditee to resist helping you. Just like that taxi driver did in Paris.
Yes, it was in his best interest to be friendly to earn a juicy tip, but he had to swallow his pride and kiss up to arrogant Americans to do so. Ultimately, he chose to forgo his tip in order to make his point.
As you know, the auditee holds the keys to you getting your audit done, so make it easy for them to play along with you by not insulting them with your lack of respect for their culture and language. If they have to swallow their pride in order to work with you, expect them to make you pay by making you wait for what you need or by not answering your questions fully.
In Part 2 of How to Prepare for an Audit Interview, we will discuss options for facilitating your meeting.
Bonjour and Merci Boucoup!
For more information on how to prepare for an audit interview, check out the