Last week in Part 1 of how to prepare for an internal audit interview, we talked about learning a little bit about the auditee's culture and language in order to demonstrate to the auditee that you respect them.
Another way to show respect to the auditee is by clearly establishing and firmly holding onto the boundaries of the interview. And that is what we are going to cover in this blog post on how to prepare for an internal audit interview.
Because if you don't lead, they will
We've all been in meetings where the leader doesn't have their act together. It is painful to watch.
So painful that someone in the meeting will probably step up to help out. And sometimes these do-gooders will inadvertently take over the meeting entirely. Then the meeting could take on a new, unintended direction and the hapless original 'leader' could be left wondering what happened.
Parameters you can define ahead of the interview
Don't abdicate control of the interview to the auditee! Instead create a clear plan for how the meeting is going to go by writing down and sharing five key parameters with the auditee.
1. The objective for your interview
Always be clear about what you want to leave with when the interview is over. Do you want them to answer a specific question, point you in the right direction, help you gather more evidence…?
Coming in without a clear objective for a meeting will almost guarantee a rambling, unproductive meeting and the client may view what your interview as a "fishing expedition" or a "witch hunt." Neither label for your interview is a happy one.
2. A structure for the meeting
Think about the best way to structure the meeting so that you get the information you need. Here are a few alternative structures:
Key questions you want answered (Q&A format)
Plus/Delta
Enablers and Hindrances
If you choose to work in a Q&A format, start with the easiest, lightest questions and build up to the more difficult ones in hopes that the auditee will answer those difficult questions as they answer the easy, initial questions so you don't have to articulate the difficult questions at all!
Plus/Delta sessions are best used when you are looking at the pros and cons of a particular concept or process. Instead of saying "cons" or "downsides," however, you use the delta symbol. The delta symbolizes change.
Here is an example. Let's say you ask the client something like "What do you like about your purchase approval process? What would you like to change?" The format looks like this and is easily transferred to a flip chart or a white board.
+

Δ

We are consistent
Procedures are documented
We refer to purchasing regulations before approving unusual transactions

Purchases under $50 go through our seven-signature approval process
Seven-signature approval process
The CFO MUST sign all purchase vouchers
Purchases are not compared to the budget before they are approved
Enablers & hindrances is another format that can work well for interviews. Essentially, you ask the client what enables him to do his job (to achieve his mission, to perform a task) and what hinders him from doing his job (achieving his mission, performing a task). Control self-assessments model often model their meetings on this format.
3. An idea of who will be there
Inquire of the auditee whether they will be meeting with you alone or with colleagues.
You also need to decide who you are going to take to the meeting. Do you need a helper? In general, you have three options in conducting a live interview:
one-on-one
tag-team
facilitated
There are benefits and drawbacks to each option.
One-on-one: With this option you go in and meet with the client by yourself, take notes by yourself, and ask questions by yourself.
Benefits:
You don't have to reconcile your notes to anyone else's notes at the end of the meeting.
The client may be more at ease just talking to one person and may be more inclined to share.
Drawbacks:
If the client is hostile, he may deny any statements he made, and it is virtually you against him.
You may take poor notes or forget something said during the meeting.
Tag team: Using this interviewing technique, one auditor takes notes and one asks the questions. You can also switch off, if you desire.
Benefits:
Two people hear the same thing from the client. (This may be a smart technique to use with a hostile client.)
One auditor can be holding a conversation and the other can be observing other things—like the physical security over a data center.
If you forget something from the meeting, maybe the other person will remember it.
One of you can concentrate on having the conversation without worrying about notes.
Drawbacks:
You have to reconcile your notes to the other auditor, which could increase documentation time.
You could intimidate a client by outnumbering him.
Facilitated: If you are working with more than one client—if you want to have a meeting with a group of managers, for instance—you may want to facilitate a meeting.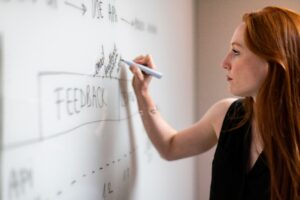 In facilitation, you document meeting results on a white board or flip chart for all participants to see. If you are working online, share your notes on the screen using Word, Excel, or Mural.
Benefits:
You may save time by reducing the number of interviews you have to conduct because you can ask the same questions to a group, all at one time.
Clients can agree to one answer and you don't have to go back and forth between them trying to corroborate their stories.
Drawbacks:
Scheduling—getting all the key players in one room—can often be a problem.
Some key players may balk at yet another meeting.
Someone must take the notes from the wall or the flip chart and summarize them.
The facilitator must have strong leadership skills, or the meeting can easily get out of hand.
4. An update from the rest of the audit team
One common complaint from my early audit clients was "I just answered that question for your colleague! Don't you guys talk to each other?" Asking the same questions over and over makes it look like our right hand doesn't know what our left hand is doing. Very unprofessional.
So, it is a good practice to check in with your audit colleagues before you schedule an interview to make sure they haven't already inquired about your topic.
Conversely, when you are done with the interview, have a little sit down with your team members to tell them what you found so they don't ask the same questions to the same client all over again.
5. A list of questions or desired take-aways
Develop a half-dozen questions related to your audit or interview objective. Write them out fully and bring them with you to the meeting. Don't worry; you aren't locked into using these questions. But they will help keep you on focused in case the meeting starts veering off-track.
Or it might be more appropriate to make a list of the info you want to walk away from the interview with…like maybe a referral to another resource or a documentary piece of evidence.
Should you create a formal agenda?
Yes, a formal agenda that describes the length of the interview and your main topics does help put the auditee at ease because they get a sense of what to expect. But I do not recommend putting your interview questions on the agenda because it could make it hard for you to change course or ask additional questions.
If you decide not to document the agenda, make sure to verbally give the auditee an overview of the phases of the meeting at the beginning of the interview. I also recommend promising and sticking to an agreed-upon end time.
How to prepare for an internal audit interview
You should spend at least as much time preparing to facilitate the interview as you take to conducting the interview. Often, I find I spend twice as much time preparing as I spend conducting meetings.
And with the interview objective, meeting structure, guest list, knowledge update, and interview questions firmly in hand, you should be able to get the information you need while ensuring that you didn't make the auditee uncomfortable because you didn't have your act together.
For more tips on how to prepare for an internal audit interview, please check out Interviewing Skills for Auditors.