Many moons ago, Marty Stuckey changed my professional life. My job was to make our audit reports more appealing to the Legislature and I was flailing a bit. So far, all I had figured out was that the writing habits that I learned in high school and college were not being rewarded at work.
I knew that writing big puffy sentences and paragraphs that go on for eight lines with topic sentences made my professors happy, but now I was boring the heck out of our audit report readers and making my audit directors unhappy.
What I didn't realize was that the purpose of my writing at work was different than the purpose of writing in school. In school, I was rewarded for showing how many different words I could come up with for 'building' (let's see…edifice, structure, property, premises, warehouse, skyscraper, home…) and my thesaurus was always on hand.
But at work, I wasn't trying to impress the professor, I was trying to convince the reader that action needed to be taken. And using all of those different words just ended up confusing the reader because they thought I was talking about something else entirely!
Then someone gave me a very thin AMA book called The Basics of Business Writing by Marty Stuckey. I read it in one sitting and became a convert. I kept these 4 principles on my cubicle wall at all times and still refer to them when I feel like I am reverting to boring, bloated prose.
I adapted them to make them sound more relevant for auditors. Here goes:
Principle #1: A Good Audit Report Engages the Reader's Attention
Let's face it: we have a challenge before us. Audit reports aren't well known for being engaging or entertaining.
To make our reports appealing, we have to create user-friendly formats, meaningful titles, and enticing content.
Just a simple change to a cover page can make a huge difference. The format and title on the cover page can either draw readers in or make them groan. Imagine these two audit report titles, in bold on the front cover.
Travel expenditure audit
30% of employees violate state travel rules
I like the second one. You?
And are you still using Times Roman font and wrapping your text from side to side on the page? Put some lipstick on that pig! This blog post makes some great points about format that are easy to implement.
For more inspiration, check out this example for an appealing format: City of Austin Audit Report
And check out this example for an appealing title: GAO Audit Report
And this example for enticing content: City of Portland Audit Report
Principle #2: A Good Audit Report Persuades the Reader that Change Should Occur
All statements in a finding lead to the recommendation! Each of the other elements of a finding are designed to support the recommendation – the condition, the effect, the cause, and the criteria.
I would argue that the recommendation is the core of the report because, ultimately, the auditee and the governing board want to know what they need to do better.
Some auditors think that the purpose of an audit report is to inform, just to point out what is wrong and then let management take it from there. But in order to get the most out of your audit work, go ahead and take the additional step and advise the client what should be done to mitigate the risks you uncover.
I'll talk more about auditable and feasible recommendations in a future blog post.
Principle #3: A Good Audit Report is Mercifully Brief
Because audit reports are not an enjoyable mystery novel or a juicy magazine, the best way to make them tolerable is to cut their length. A 60-page audit report is abusive to the reader. You read that right. Abusive!
Good business writing makes its point and leaves the reader alone to take care of other business.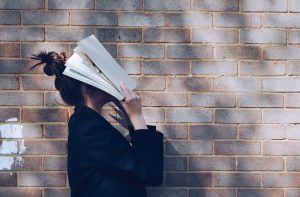 Think of your own reading habits! You don't even want to scroll down to finish this short blog post!
Instead of trying to show the reader how much work you did and how smart you are, show the reader how much you care about them by making the report as small as possible.
Principle #4: A Good Audit Report is Clear and Well Organized
The best business writing has an underlying structure that is easily identified by the reader. The reader is going to scan your audit report first to find answers to the questions on their mind and a structure will give them a framework to find what they need.
Journalists have a structure; thorough articles answer the questions: Who? What? Why? Where? How?
And auditors have some of the best structures around – the condition, effect, cause, criteria, and recommendation – the elements of a good persuasive argument. Auditors also use source, purpose, procedures, results, and conclusions in their working papers. And auditors also know that their conclusion should match their objective.
Don't view structure as the enemy, but instead view structure as your best friend because otherwise, your report will ramble on incoherently sharing way too many facts. And that gets you back to Principle #3 of good business writing.
Want to improve your audit reports this year? Come to the Audit Reporting Clinic in Austin in April.