An audit manager has tackled the basics and is ready to lead an audit project, maybe multiple audit projects, from start to finish.
Ideally, the front-line tasks – like testing and audit documentation – are left in the hands of audit staff so that the audit manager can concentrate on higher level tasks – like planning the audit, negotiating results with the auditee, and training new staff.
The GAO calls audit managers 'supervisory auditors' and anticipates that audit managers have developed enough professional judgment and experience to tolerate a moderate level of ambiguity.
GAGAS 4.10 b. Supervisory auditors: Auditors in these roles plan engagements, perform engagement procedures, or direct engagements. Work situations for these auditors are characterized by moderate levels of ambiguity, complexity, and uncertainty. The supervisory auditor role necessitates at least an intermediate level of proficiency.
Here are some things that an audit manager should know
In order for an audit manager to get projects done – in compliance with standards, on time, while nurturing their team – they need to know the following:
1. Where and how audit requirements are satisfied
An audit manager should have a good understanding of what the audit standards require and where and how the audit team is satisfying those requirements.
Audit standards do change – albeit not frequently – and the audit manager should be able to tell you from memory what the latest standards require regarding audit reporting, audit evidence, and auditor independence… just to mention a few key areas.
If you want to find out more about the latest Yellow Book standards, check out this video.
2. How to edit findings
Talk about complexity (see the above referenced GAGAS section 4.10 b)! Writing audit findings can be tricky, very tricky. And an audit manager has to balance the goal of developing their staff and teaching them how to write findings against the goal of presenting the most compelling audit finding to the user of the audit report.
For more on how to walk this fine line, see this blog post.
3. How to review audit documentation
Snore. Audit documentation review is – to me – one of the more mind numbing and sleep-inducing aspects of an audit manger's job. So, in order to reduce the torture, an audit manager needs to know how to save time by reviewing audit documentation in the proper sequence, and that key pieces of the audit documentation should link!
4. How to manage a project within budget
Ultimately, the audit manager has to get projects done. That means they are constantly combatting scope creep and managing both their team's time and their own time. For ideas on how to battle scope creep, see this blog post.
5. How to build a team and nurture staff
Wise managers do not think about their inexperienced staff as a burden, or as a barrier to getting the audit done, but instead think of them as a precious resource that they have been graced with for a short period of time.
I love this quote from Thich Nhat Hahn: 
When you plant lettuce, if it does not grow well, you don't blame the lettuce. You look into the reasons it is not doing well. It may need fertilizer, or more water, or less sun. You never blame the lettuce. Yet if we have problems with our friends or our family, we blame the other person. But if we know how to take care of them, they will grow well, like lettuce. Blaming has no positive effect at all, nor does trying to persuade using reason and arguments. That is my experience. No blame, no reasoning, no argument, just understanding. If you understand, and you show that you understand, you can love, and the situation will change.
Nurture your lettuce and your team will flourish. And when they flourish, joy, growth, and insight can find a home on your project.
To learn more about how to lead an audit project and nurture your staff, please join us for the audit leadership webinar series.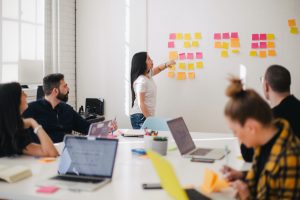 6. How to set clear expectations and give feedback without alienating staff
How is your team getting along? Do they seem to trust you? An audit team will waste time and become very frustrated if audit managers do not clearly spell out expectations and provide frequent and productive feedback. There's an art to providing feedback without making things worse.
And on top of that, managers need to accept that setting expectations and giving feedback is not a one time event! It is an ongoing conversation that never ends. Check out this video for more on the importance of expectations and feedback.
7. How to share results with the executive team and the auditee
And speaking of feedback (!), the audit report is feedback for the auditee and they often don't like what you have to say.
In order to reduce the trauma of a surprise audit finding, feedback for the auditee should be an ongoing conversation (just like giving feedback to staff). The audit manager should do everything they can to make sure that the auditee is slowly and gently made aware of the audit findings and conclusions way before the exit conference.
I suggest that audit managers come up with a plan to keep auditees informed throughout the audit. Part of my plan to keep auditees informed is to keep a draft of the findings available to the auditee at all times. I like to write them on the wall. A sharable Google sheet or doc will also do the job.
8. How to delegate
On the last peer review I led, I mistakenly assigned myself some technical front-line tasks. My team of four was only on-site for a week, and I ended up having to assign those front-line tasks to another team member.
What was I thinking? What led me to believe that I could both manage the project and perform the nitty-gritty evidence-gathering tasks?
First of all, I think I under-appreciated how much time managerial tasks would consume.
But more importantly, I was blowing it when it came to delegation. One of the best ways to get more things done in a shorter period of time while developing your staff is to hand it off to someone else who needs an opportunity to grow.
---
I hope that list was helpful to you as you make the transition from technician to manager. Here's wishing you grand success in getting projects done in compliance with standards, on time, while nurturing your team. You can do it!