Let's cover two audit interview tips in this short blog post:
Lay it on thick
Turn on the charm
Yes. Schmooze as if your audit depends on it. Because it does!
1. Lay it on thick
Everyone thrives on compliments and positive energy. However, an auditor's role often requires us to be critical and negative.
The Harvard Business Review says that the ideal praise to criticism ratio is 5 to 1. Yes, 5 positives for every negative!
That means that you have to become a positivity-and-praise-generating-machine. We earn the right to say something critical to our coworkers, clients, family and friends by consistently and frequently saying something complimentary and expressing appreciation.
There is no limit!
You might think that you will come off as fake and silly if you keep praising and thanking your peeps over and over and over. But you know what? I have never found a limit to the amount of praise and appreciation I can heap on someone. Your peeps will eat it up! Try it. I think you will be pleasantly surprised.
Compliments to consider
Here are some ideas for compliments you can lay on the auditee and you can't lay it on too thick!
Wow, this is a nice office. It is so good to have a window, isn't it?
Your assistant is very nice to work with. I appreciate her professionalism.
Thank you so much for agreeing to meet with me so promptly. I appreciate your professionalism.
You have great handwriting.
Where did you get that beautiful frame for your diploma?
Your kids are darling! How old are they?
The files I have been examining are very neat and tidy.
This building is in a great location. I'll bet you really enjoy working here.
Your job is so critical to the success of this program; you must get overwhelmed (after they describe their overwhelmed self—compliment and support them).
I'll bet you are a great boss to work for; you have such a great sense of humor.
Be judicious
Steer away from comments about their personal appearance if there is any risk of them taking your compliment as sexual harassment.
And be careful not to compliment the client on a job well done as far as their procedures, controls, or documentation, until you are sure you know what you are talking about. If you compliment their documentation, for example, and then come back to criticize it later, you will appear duplicitous and insincere.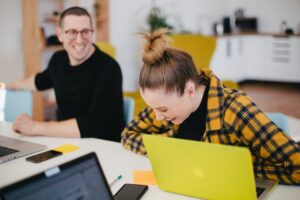 2. Turn on the charm
Who do you like? Why do you like them?
Maybe you like them because they use one of the following techniques for charming the socks of you. Pick a few that you think could work for you and add them to your client relation building toolbox:
Demonstrate altruism, be of help.
Assume control as a leader so they can relax in their role.
Assume social equality.
Present a comfortable and relaxed self.
Laugh easily and heartily.
Follow cultural rules for polite, cooperative communication.
Appear active, enthusiastic, and dynamic.
Stimulate and encourage others to talk about themselves.
Communicate warmth, empathy, and sensitivity.
Show that you are similar, share significant attitudes and values.
Demonstrate support.
Appear honest, trustworthy, and reliable.
Show respect.
Make sure that you and the other person come in frequent contact.
Facilitate the enjoyment of common activities.
Listen attentively and actively.
Communicate interest non-verbally.
Engage in self-disclosure and be open.
Appear optimistic and positive, rather than pessimistic and negative.
Appear to have personal autonomy, to be an independent, freethinking individual.
Present yourself as an interesting person to get to know.
Appear as one able to administer awards for associating with you.
Help others feel positively about themselves.
Another way to charm someone you want to befriend is to invite them to a social event. But be careful with this idea as we have our auditor independence to safeguard!
If you want to learn more about how to have fun with the auditee and still get your job done, check out this bundle of courses.