In this episode of THE SAMPLE, Leita Hart-Fanta, CPA answers the question, "What Is Inherent Risk?" Inherent risk is all the bad stuff that happens when you take action, or when you decide to do something. Leita looks at some examples of risk.
---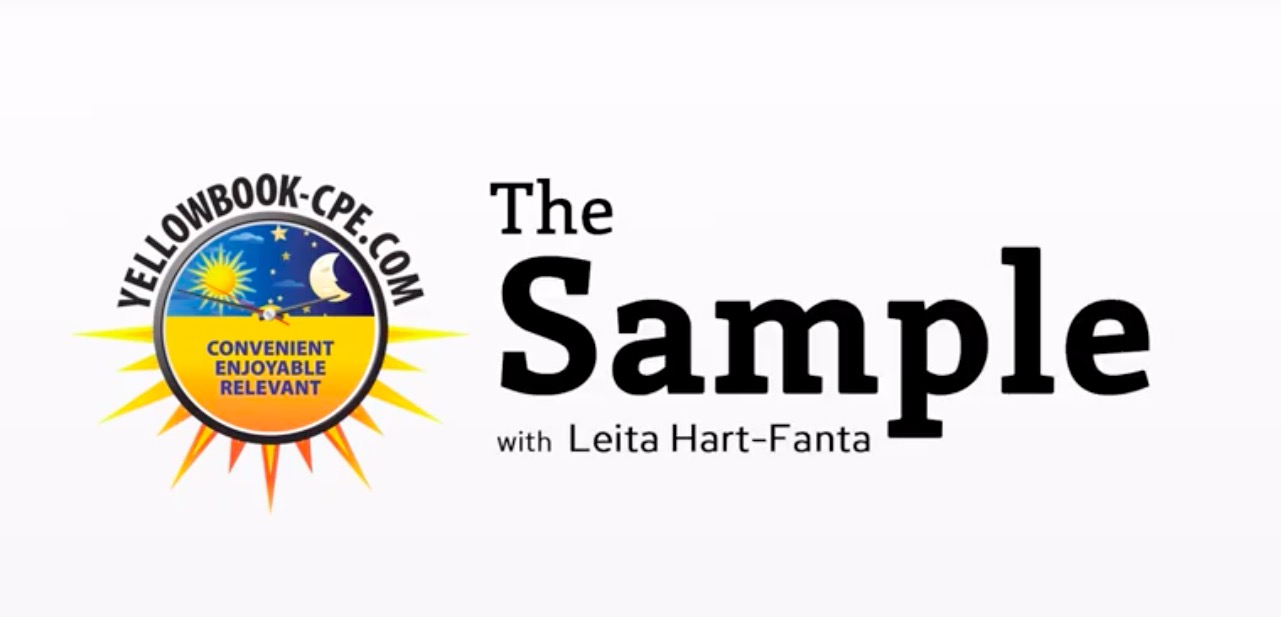 Welcome to The Sample, a quick discussion of auditing concepts and terms that will help you do your work. Conducting an audit in accordance with auditing standards is no small feat and I want to support you. We'll be referring to the GAO, IIA and AICPA literature to bolster our conversations. Let's get started.
Transcript for WHAT IS INHERENT RISK?
In this episode, we answer the question, "What is inherent risk?" And I gotta warn ya, this is going to get dark. Because inherent risk is all the bad stuff that could happen when you take action, when you decide to do something.
And we're going to look at an example of a school district who chose to build a pool behind most of their schools. So, when they decided to build that pool, they took on the risk that one of these things could happen: death, injury, shame, loss of money, or non-achievement of goals.
It isn't always about the money
Now, a lot of times, our audit objectives will only focused on loss of money, especially if we're a financial auditor, maybe a little bit of shame, but there are audit objectives that have to do with death.
I am working with a state auditor who is looking at nursing homes, and whether the nursing homes are being inspected for health and safety. So, their objective centers around death and injury, maybe shame. Money is not the most important inherent risk for that audit objective.
Inherent risk is the effect statement in a finding
Another way I think about inherent risks is I think about them as the effect statement in a finding.
So, the condition statement, as you know, says, "What's wrong?" And then the effect is, "So what?" And here, we can fill in death, injury, shame, loss of money, non-achievement of goals.
Here's an example from the school. If the lifeguards are not on duty while the kids are swimming, the kids could drown. That would be terrible. See, I told you it was going to be dark.
Or maybe our condition statement sounds like, "Lifeguards are self-reporting the hours they worked and we're overpaying them." So, the first scenario was hitting death head-on, and the second one was more about loss of money.
There is disagreement about the significance of each risk
In general, most people think these are in priority order, but right now in our country, we're having a little bit of a debate with the Coronavirus about what's more significant, death or the economy? The governor of Michigan believes that death is her first priority, making sure people don't die. The lieutenant governor of Texas is actually willing to die on behalf of his grandchildren's economic prosperity.  And when I hear them talking – when I hear this debate raging – I think of the inherent risk list in my head.
One person is thinking that death is more significant. Another thinks that losing money is more significant.
Now you can live on the dark side, too
So now, you can have this lovely list of inherent risks, the bad things that can happen, in your head too. You're welcome.
That wraps it up!
That wraps it up for another episode of The Sample. True to the nature of a sample, we didn't talk about everything, so you've probably got questions. Write to me leita@yellowbook-cpe.com and I'll do my best to fill in the blanks. Thanks for playing.
For More Info: