Have you ever said anything akin to "supervision is lacking" in your audit report?  Need you use such mean and vague words?
In most audit reports that I review, I see unnecessary cruelty; flat-out, unhelpful, ornery statements that are not supported by evidence.
Am I exaggerating a little here?  I really don't think so.  I think that auditors have gotten into some sloppy writing habits and no one has ever called them on it.  So now I'm calling.  Ring! Ring!
Auditees aren't going to stand up for themselves against this bullying, because let's face it, auditees are scared of us and don't want to pick a fight.  Many will tolerate plenty of bad behavior on our part if we will simply go away and leave them alone.
Here is the kind of verbiage I am referring to:
| | |
| --- | --- |
| VAGUE WORDS | MEAN WORDS |
| oversight | lacking |
| supervision | poor |
| internal controls | weak |
| documentation | inadequate |
| compliance | failure |
Feel free to combine any word from the vague words column with the mean words column for maximum emotional, but ultimately meaningless, effect.
Would you call someone you love a lacking, poor, weak, inadequate failure?  I hope not.
I hope you're not talking to loved ones like that
I was sloppy with my language with someone I loved when I was younger.  My ex-husband and I could really go at each other over the stupidest little things.  It was exhausting and sad and was one of the reasons for our divorce.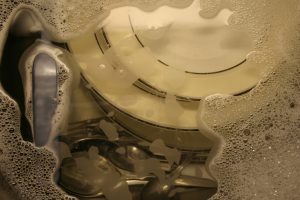 When he wasn't doing something I thought he should be doing, I'd start with a request that he do it.  And then when he refused, I started laying on the vague, mean accusations.  I'd  say some ridiculous absolutes like, "You never bring the dishes to the sink after you eat! I do everything around here!" And then I might say, "You are so selfish."  "I can't believe our relationship has come to this."  "I am so tired of dealing with you." and the piece de resistance, "I should never have married you. I knew you were like this before I married you…"   And he gave it back as good as I gave it.   Very Jerry Springer!
After a few of those immature exchanges, I decided that I knew nothing about being married and went to counseling and read a bunch of books on fighting fairly.  I'd like to say that my new knowledge and skills turned my marriage around but, alas, they did not.
Thankfully, I did bring my new skills with me into my infinitely better second marriage.  I am far from perfect when I get angry, but at least I know what a stupid, unproductive, guaranteed-to-cause-offense statement sounds like.  Now, instead of using vague and mean words, I stick with specific, evidence-based statements that do not contain emotional accusations.  For instance, "Please bring your dishes to the sink so I can put them in the dishwasher."
I can see for miles and miles
Due to my hard-earned discernment, I can see a mean statement in an audit report from a mile away.  All I have to do is look for a mean word, and next to it is always a vague word that is hard to define.  What exactly is inadequate oversight anyway?
Here is an example of emotional language from an actual audit report:
The expenditures were not documented adequately. The vendor did not properly document expenditures from the trust fund accounts.
See the words 'adequately' and 'properly?'  Imagine using those words with someone you love, "My dear, you are not adequate nor proper."
Or how about this classic?
Internal controls are weak.  
Well, that pretty much tells me ABSOLUTELY NOTHING! while insulting whoever is in charge of internal controls at the same time.  Bravo!
You can't do that
You might be one of those auditors who really likes to stick it to auditees. They actually deserve it.  They did mess up, after all.
If you were unable to see the self-righteous arrogance in that last paragraph, may I recommend a book called Get a Grip on Yourself, You Self-Righteous, Arrogant Auditor that I will publish in 2022.
The audit report is not the place for emotions or attitude or pride.  The audit report is a place to present objective, convincing evidence.  In section 9.03 of the 2018 Yellow Book, the GAO requires auditors to include this statement in their audit reports, "We believe that the evidence obtained provides a reasonable basis for our findings and conclusions based on our audit objectives." Maybe the GAO is trying to remind us to stop editorializing.  Auditors are not being paid to go around expressing our opinions on stuff. That is what consultants do, God bless 'em.
Good luck tying "expenditures were not documented adequately" to a working paper.  But you can tie "In 31 out of 40 expenditures sampled, the vendor could not provide detailed receipts."   
If you do a good job describing what you did and what you found in the audit report, the results will speak for themselves without you adding any emotional flourish. Please don't embellish or make your work, or their error, seem like more than it is – leave the sensationalizing to cable news.
They aren't poor, weak, inadequate managers. They just have a few things to take care of, as we all do.  Stick with the facts, and everyone will benefit.  And while you're at it, will you please bring your dishes to the sink?