The Audit Room is the number one podcast where auditors share their experiences, ask questions and receive expert coaching and feedback. The hosts of the podcast, Tracie Marquardt and Trent Russell, invited Leita Hart-Fanta as a special guest for the recent Episode 37: Wait, There's a Yellow Book, too?
Yellow Book, Green Book, Red Book?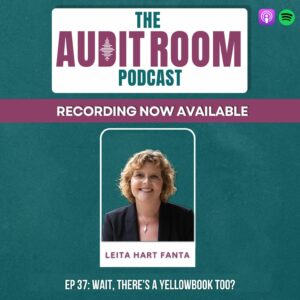 Although it sounds like Dr. Suess wrote the GAO guidance books, Leita explains they're referred to by color as slang for the actual titles. For instance, the Yellow Book's official title is Government Auditing Standards and the Red Book is officially called the International Professional Practices Framework. Throughout the podcast, Leita delves into the differences of the books and when auditors should refer to them.
Leita also answers questions live on air and predicts the next moves by the GAO. We won't give away all the details, so please click here to listen to the Audit Room Podcast.
More about The Audit Room
Episodes are recorded LIVE every Tuesday at 11:00 AM CT. Be sure to check out their next meeting to meet helpful leaders in the audit community.
Need CPE?
Don't miss Trent's upcoming webinar with Yellowbook-CPE.com on June 15 at 12:00 PM CT, Building Your Audit Analytics Strategy!