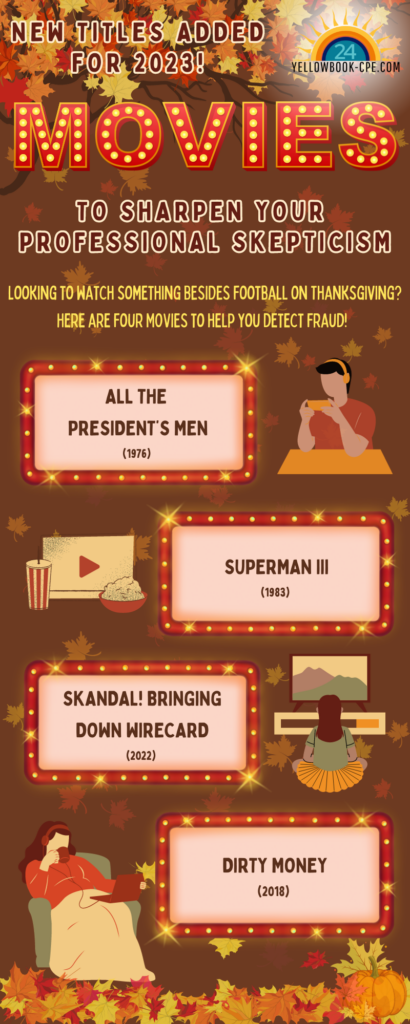 What's on your watch list this holiday season? You're in luck if you prefer something other than football, plus you can keep your professional skepticism sharp between turkey-induced naps!
I recommend you try at least one of these thrilling 35+ movies for professional skeptics (aka auditors, aka YOU) over the long Thanksgiving weekend.
Thanks to my LinkedIn followers, there are four new titles added to 2022's list of 31 movies:
All The President's Men (#32)
Superman III (#33)
Skandal! Bringing Down Wirecard (#34)
Dirty Money (#35)
I'm already thinking about what to add in 2024 and I bet there will be something about the FTX scandal coming out soon!
Happily Ever After?
Most of these titles are definitely NOT "happily ever after," but we learn valuable lessons from each of them.
Government investigators and corporate leaders are portrayed as incompetent, corrupt and greedy and the fraudsters sometimes win. The controls break down or were just never there. The risk we auditors always warn against actually happens and no one just gallops into the sunset on their white horse as the credits start rolling.
Now go pop some popcorn, snuggle under your favorite blanket and settle in for some mind-blowing schemes coming from your screen. You will learn something interesting about fraud, internal controls, greed and the importance of professional skepticism by watching any of the following movies streaming on either Netflix or Amazon.
35+ Movies for Professional Skeptics
1. The Polka King (2017)
Jack Black stars as an ambitious immigrant who uses a Ponzi scheme to achieve the American dream. Watch how an otherwise upstanding guy slowly gets drawn into a lie and how the government regulators fail to nip the fraud in the bud.
2. American Made (2017)
At one point in this highly entertaining movie, Tom Cruise's money laundering methods fail him and he has a hard time finding places to store his excess cash. I had to laugh out loud when cash started oozing out of his closet, car and refrigerator. Who knew crates full of cash could be such a problem!?! Federal bank regulators employ an auditor's favorite tool – data analytics – to suss out Tom's drug running operation. Near the end of the movie, self-concerned government agencies fight over who will get credit for taking him down.
3. The Smartest Guys in the Room (2005)
This documentary is dry, but it's worth watching because the Enron debacle is something every auditor should be schooled in. Watch for the real-life examples of how a negative tone at the top can take a whole organization down.
4. The Wolf of Wall Street (2013)
Leonardo DiCaprio stars in this wild story of fraud, greed and debauchery. The scenes with Matthew McConaughey are scary good and show human greed at its worst.
5. The Founder (2016)
Watch Ray Kroc take McDonald's from the true founders. When it's over, you have to wonder whether Ray Kroc is a smart businessman or a fraudster.
6. ICARUS (2017)
In this true story of how the Russians doped at the Olympics, we see how even the most stringent controls can be bypassed.
7. & 8. Stop at Nothing: The Lance Armstrong Story (2014) & The Armstrong Lie (2013)
Lance Armstrong earned millions in endorsements from sponsors who believed in him. Along the way, he destroyed the careers of anyone who accused him of using performance-enhancing drugs. Watch these films to witness the harsh realities of whistle-blowing and a master liar at work.
9. All About Eve (1950)
This classic black-and-white film starring Bette Davis isn't exactly about fraud, but instead a character study of someone who stops at nothing to get what she wants. Deliciously chilling.
10. Sunset Boulevard (1950)
Another classic black-and-white film about the slippery slope of compromise and greed. The lead character, played by Bill Holden, slowly looses his grip on his life when he takes the easy way out of his financial dilemma and shacks up with a rich, aging silent movie star, played by Gloria Swanson. He tries to get away, but winds up floating face down in a swimming pool.
11. Bernie (2011)
This dark comedy depicting a true story also features Jack Black as another nice guy sucked into a bad situation. This time, his solution is more severe than simply stealing money. But strangely, at the end of the movie, you can't help but like him. Texans will get a hoot out of this clip from Bernie describing the regions of Texas complete with funny insults and stereotypes.
12. The Wizard of Lies (2017)
Robert De Niro and Michelle Pfeiffer star as Bernie and Ruth Madoff in this amazing story of the largest investment fraud in history. As you would expect, the acting is top notch and you won't be able to push pause on this one.
13. Inside Job (2010)
Matt Damon narrates this upsetting documentary about how U.S. government officials were complicit in the 2008 crash. A late section of the film highlights the drug-fueled madness of American bankers and traders à la The Wolf of Wall Street.
14. The Accountant (2016)
Ben Affleck stars as an autistic math wiz called in to audit a corporation that suffered a $61 million embezzlement. Affleck could have easily worn his sexy Batman costume throughout this film as he reemploys his brooding Dark Knight demeanor as this genius character, and the plot unfolds like a super-hero movie. At one point, he covers an entire conference room with general ledger printouts to look for expenditure patterns. Now that's sexy!
15. Joy (2015)
Jennifer Lawrence stars as a downtrodden divorcee from the wrong side of the tracks who invents a mop that sells like crazy on QVC. At one point in this drama, which is based on a true story, she has to stand up to a manufacturer who has stolen her invention. Watch for the lack of controls that lead to the fraud and how she saves her business.
16. The Informant (2009)
Matt Damon stars in a movie so full of surprises, I can't tell you much about it without ruining some of the fun. Be ready for plenty of twists and turns.
17. American Hustle (2013)
Amy Adams and Christian Bale star as grifters who are roped into helping with a federal investigation of corrupt politicians. It's hard to tell who the bad guy is here. Is it the grifters or the corrupt politicians or the federal investigators?
18. Up in the Air (2009)
This movie stars George Clooney as a 'corporate downsizer' for hire. In other words, Clooney's character flies around the country annoying people he has never met before. He is lonely and unappreciated… sort of like those of us gifted with professional skepticism, eh?
19. Office Space (1999)
Have you ever wanted to annihilate a piece of uncooperative office technology? Ever had to hold back an urge to smack your cubicle neighbor? This silly comedy about disgruntled office workers who plot a fraud will let you laugh those urges off and face your semi-dysfunctional office environment again with a lighter attitude.
20. All the Queen's Horses (2017)
This documentary explains how one city employee in Dixon, Illinois stole $53 million. Kelly Richmond Pope, an accounting professor, lays out the details of this bold fraud using terms that are very familiar to auditors. She directly questions those involved about their lack of professional skepticism and shows the consequences of the fraud on city leaders, external auditors and citizens. Auditors will feel right at home with the way Pope sequences the information, but her interview with one of the attorneys may make you want to change careers.
21. Three Days of the Condor (1975)
What happens when you find out your employer is a crook? Who can you trust when you blow the whistle? Robert Redford spends three days trying to save his own life in this dark thriller that I am sure wowed audiences with the cutting-edge technology at the time. Can anyone say, "FAX machine?"
22. The Laundromat (2019)
Gary Oldman, Antonio Banderas and Meryl Streep explain how huge corporations and billionaires avoid paying taxes on their earnings. But don't worry – it doesn't swing blue or red; it is about corruption at the highest levels of our society and government.
23. Catch Me If You Can (2002)
Leonardo DiCaprio, Tom Hanks, Amy Adams and Christopher Walken star in the real life story of one very creative fraudster pursued by the FBI. 'Nuff said.
24. The Big Short (2015)
Christian Bale plays a quirky, genius hedge fund manager who profits from the 2008 crash. But the bigger story is how the U.S. government stepped in with taxpayer dollars to save the most rapacious fraudsters of all, U.S. banking executives.
25. There Are No Fakes (2020)
This documentary starts off as a "buyer beware" parable: The lead singer of the Bare Naked Ladies is tricked into buying a forged painting for $20,000. But the filmmakers don't stop there; they keep digging in order to find out who created the forgery. And before too long, this simple parable uncovers a Canadian family so evil that I had to stop watching. If you find out how this one ends, let me know.
26. The Godfather Series (1972-1990)
I can't say enough good things about these gorgeous films. Yes, yes, I know. The story is fiction and the final episode is marred by Sophia Coppola's wooden acting, but I am swept along and fascinated by the government and religious corruption portrayed by the some of the best film actors of all time: Al Pacino, Diane Keaton, Marlon Brando, Talia Shire and Robert DeNiro.
27. The Social Dilemma (2020)
Facebook is destroying our democracy. If you think that is an extreme statement then you haven't watched this credible documentary.
28. Inventing Anna (2022)
How did a 25-year-old with no education and no experience almost buy an entire building in New York City with the help of Wall Street bankers? Watch this Netflix series written by master television writer Shonda Rhimes and get sucked in to the deceit.
29. Downfall: The Case Against Boeing (2022)
In a greedy grab for market share and shareholder returns, Boeing made a fatal short-term decision to tack an engine that was too heavy on an existing airplane model. Everything was looking great for Boeing and sales were up! That is until 300 people died in two separate plane crashes. Boeing, of course, denied responsibility and awarded their CEO with $60+ million.
30. The Billionaire Boy's Club (2018)
Watch the birth of a Ponzi scheme in this well-acted movie available on Amazon Prime. Turns out all you have to do is turn a minus into a plus in your general ledger! 80's music and fashion make this one interesting to watch at first, although it devolves into a violent mess as it progresses. And, if you are not a fan of Kevin Spacey, you might want to skip this one as he has the best line in the movie: "I'm from Wall Street. Do you think people really get rich by playing by the rules?" No, Kevin, no we don't.
31. Bad Education (2019)
Hugh Jackman stars as an ambitious high school superintendent who isn't at all what he seems. The incredible Allison Janney stars as his assistant who initially shoulders the blame. I could totally relate to the hero who uncovers the fraud as she has to fight complacency, sexism and the system in order to hold the fraudsters accountable. I highly recommend this one found on HBO Max.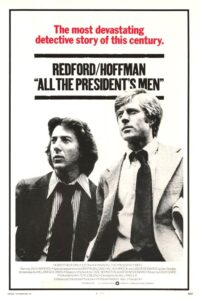 32. All the President's Men (1976)
Ever heard the catchphrase "Follow the money?" It was popularized by this award-winning biographical drama about Watergate starring Robert Redford and Dustin Hoffman. Just those two names alone make you want to see this movie, right? Based on the 1974 non-fiction book by Carl Bernstein and Bob Woodward, the two journalists investigating the scandal, massive corruption in a presidential re-election campaign.
33. Superman III (1983)
Making "salami slicing" fraud famous, Richard Pryor plays Gus Gorman, a genius programmer who hacks his company's financial system and transfers fractions of cents into his payroll check. This is the same scheme used in Office Space (#19 above), but Gorman is caught by his evil boss. Chaos ensues and, of course, Superman (Christopher Reeve) comes to save the day!
34. Skandal! Bringing Down Wirecard (2022)
Wirecard, a now insolvent German fintech company, gained traction quickly by fabricating the truth behind its true financial position. The documentary consists of how Wirecard's massive fraudulent financial reporting was uncovered by a tenacious team of journalists and KPMG.
35. Dirty Money (2018)
From crippling payday loans to cars cheating emissions tests, this investigative Netflix docuseries exposes brazen acts of corporate greed and corruption.
Honorable Mention: Fruitcake Fraud (2021)
This is about the $13 million fraud at a Corsicana, Texas bakery, but it's not currently available for streaming. Keep an eye out for it!
Send me your movies
I'd love to hear which movies you liked best and if you have a film that should be added to help with professional skepticism. Write to me at info@yellowbook-cpe.com.
Learn more today!
Want to learn more about fraud and keep your professional skepticism in check? Check out this self-study Fraud Bundle sharing lots of interesting examples and stories of fraud. It's also full of tips for how auditors can prevent and detect fraud and corruption. Individually, these courses sell for $375, but we are proud to offer them as a bundle at the discounted price of $250 for 20.5 hours hours of Yellow Book qualifying CPE credit.
Yellowbook-CPE.com wishes you all a very warm and happy Thanksgiving!