In this episode of THE SAMPLE, Leita Hart-Fanta, CPA answers the question, "Do I really have to do that?: Unconditional and Presumptively Mandatory Requirements" If auditors want to declare in their audit report that they conducted the audit in accordance with GAGAS, they need to know the difference between the Yellow Book's unconditional requirements, presumptively mandatory requirements, and explanatory material.
---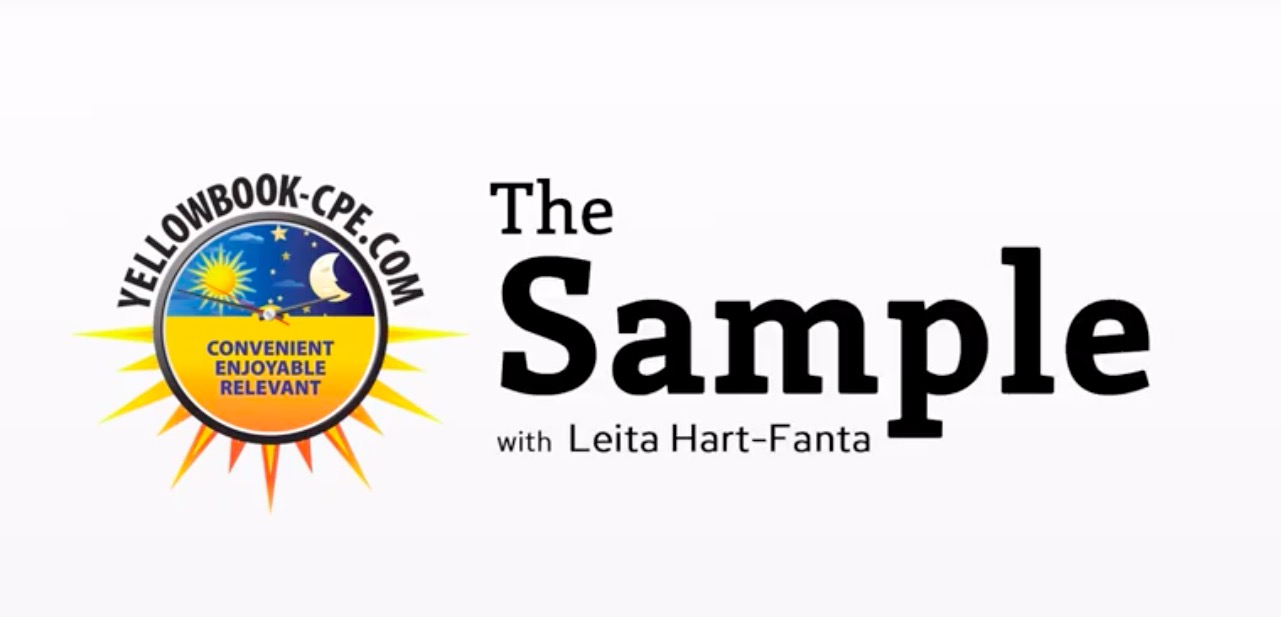 Welcome to The Sample, a quick discussion of auditing concepts and terms that will help you do your work. Conducting an audit in accordance with auditing standards is no small feat and I want to support you. We'll be referring to the GAO, IIA and AICPA literature to bolster our conversations. Let's get started.
Transcript
In today's episode, I'm going to answer the question, "Do I really have to do that?" I'm going to explain the difference between a mandatory and a presumptively mandatory audit standard requirement.
The GAO and the Yellow Book use three different terms when they're basically telling you what to do on an audit. They might say, you "must" do something; that's an unconditional requirement. A "should," they call those presumptively mandatory requirements. Then there's explanatory materials, and they use the terms "may," "might" or "could" in those sentences.
What's neat about the 2018 version of the Yellow Book, and I assume they'll do this from here on out, is they put the mandatory requirements (the "must"s and "should"s, or mandatory and presumptively mandatory requirements) in a box. Let me show you what that looks like. Here is a box and here's stuff that's not in a box. This is one of the pages out of the 2018 Yellow Book. It says "should." This is a "should" requirement. It goes into more detail about continuing education. Then after the box, they give you some "may," "might" or "could," or some guidance, or they explain terminology. These things under the box are helpful but not mandatory. These things in the box are mandatory.
Why does this matter? Because you want to be able to put this paragraph in your audit report if you're a performance auditor. If you're a financial auditor, you're going to want to put this first sentence at least in your audit report, that says, "We conducted this audit in accordance with generally accepted government auditing standards. We've done this in accordance with the Yellow Book." Financial auditors like to say that, and performance auditors like to say it.
But if you break a "must," you cannot say that sentence. You can't say it at all. Now if you break a "should," (and the requirement we just looked at with continuing education was a "should") you can say that sentence, but you have to explain yourself. So, "We conducted this audit in accordance with generally accepted government auditing except we did not earn the 80 hours of CPE required by the Yellow Book by the standards." I don't even know what it would say exactly, but you have to be transparent about it.
What if you break something that's outside of the box? You don't have to say anything about it. Pay attention to the things inside the box. If you break a "must" segment, and there are quite a few of them in the Yellow Book, don't even mention the GAO at all. That is an unconditional mandatory requirement. Presumptively mandatory requirements are "should" statements and there are cases where you might need to break that, but when you do, you've got to be transparent about it.
Hope that helped.
That wraps it up for another episode of The Sample. True to the nature of a sample, we didn't talk about everything, so you've probably got questions. Write to me at leita@yellowbook-cpe.com and I'll do my best to fill in the blanks. Thanks for playing.
For More Info:
GAGAS Performance Audit Standards – Video Course
2018 Yellow Book Standards for Financial Audits – Video Course
The 2018 GAO Yellow Book Interpreted