---
$79 – Single;
4 or more: $175/1st person, $35 per additional attendee.
Includes online webinar and quiz for 2 hours of CPE credit.
---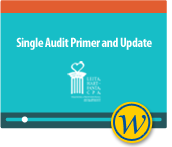 Single audits are different. The federal government demands a lot of a grantee and their auditor. In this course, you will learn many aspects of Single Audits and more. Key acronyms and terminology are explained in plain English.
In this course, we will cover the essential differences between OMB Circular A-133 and the new Uniform Grant Guidance as well as the differences between a financial audit and a Single Audit.
Course objectives include:
Identify the significant differences between a commercial financial audit and a Single Audit
Identify the three subjects of a single audit
Compare the requirements of the AICPA, the GAO, and the Uniform Grant Guidance
Identify major changes between OMB Circular A-133 and the audit requirements from the Uniform Grant Guidance
Distinguish between fraud, abuse, and noncompliance
Order the levels of materiality on a Single Audit
Program level: Intermediate
Field of Study: Auditing (Governmental)
Who should attend: Auditors conducting audits of federal grants and programs.
Prerequisites: None
Advance preparation: One or more years of financial audit experience
Instructional method: Group-Internet-Based
CPE Credit Hours: 2