We have the best students and customers out there!  Here are a few mentions from some of our very-satisfied clients:
---
From Essential Audit Skills Course, Austin, March 2013…
I enjoyed the course. I was able to use all the information that was given. I had taken a course through another facility where the instructor did not follow the course description and it ended up not pertaining to internal auditors as much as it should have.

I believe that this course would help new auditors with learning how to perform an audit, auditors that have had some experience fill in the gaps, and for experienced auditors, it could refresh their memory of steps they may not be performing.

The complete audit process is contingent on your own agency but coming into an environment with others, helps you understand the processes and why it's a standard.

I've only been in Auditing for one month and the instructor was made the course interesting. Working in small groups helped with getting different opinions.

Instructor dissected the entire audit process from planning to report writing with a great sense of humor that kept students interested.

I've been an auditor for 5 weeks. Until this course I felt in over my head. Now I have a clearer understanding of my purpose at work.

Course met the objectives of the class and provided a clear presentation of the materials. Overall, it was a very educational class.

The course was a very good introduction to auditing. Any new person would enjoy the subject matter covered.

Information was presented simply and succinctly to facilitate implementation for new auditor.

Leita made a dry subject interesting and imparted a great deal of information.

The course provides a good basic understanding for the beginning auditor.

There are others in my area who would benefit from this training.

I enjoyed the course and found it to be very useful.

It was an GREAT course with a GREAT Instructor.

Very good overview of the audit process.

Good information and case studies.

The course materials are relevant.

Thought this was a great class.

Great instructor

She was a fabulous instructor. She kept the course material relevant and entertaining at the same time. She did an excellent job of teaching appropriate material while intertwining interesting stories. She was very polite to all of the students and welcomed everyone's input and questions.

Leita, was fun and knows her stuff. She was not boring and she made the class interesting.

Hit all the important points so the new auditor has a good sense of what to focus on.

Leita is very funny and entertaining while being knowledgeable and informative.

Leita Hart-Fanta is excellent!

She established an open environment that allowed us to feel free to share our own thoughts, insights, and opinions. She was extremely respectful and professional throughout the entire course. I would gladly sign up for future training taught by Leita Hart-Fanta.

Leita truly made the training fun! How often can that be said about CPE courses? She encouraged the learning environment, and made sure that everyone was on the same page. There were times that as a class we were all asking questions on a certain item, so she would quickly restructure the class and the way she was planning on talking about subjects in order to provide us with clarity. I hope to take more CPE courses from her in the future!

Leita was extremely knowledgeable of the subject matter. She also had was of simplifying the concepts to their base elements. This method made it very easy to grasp the concepts that were presented. For and introductory course, I find that clarity and simplicity key.

Leita was a wonderful instructor. Her material was relevant. She made the class interesting and interactive. It was a great learning experience and I know that I will be able to take what I have learned and apply it to my job.

The instructor was able to keep the training interesting and flow from one topic to the next. She also maintained control of the course so that it didn't stray too far from topic.

The instructor was knowledgeable, and was able to support information with examples. The class was interactive, which allowed students to participate and learn from mistakes.

Leita made the class interesting and applied the situation to real life events. The collaboration within our tables helped us apply the objectives of the course.

The instructor was knowledgeable on the subject and presented the material in an interesting fashion. I learned a lot from this instructor.

Instructor dissected the entire audit process from planning to report writing with a great sense of humor that kept students interested.

Mrs. Hart-Fanta made the subject interesting and involved the class to interact in groups on preparing small components of an audit.

Leita has extensive knowledge in relation to Audit and this course. She seems well prepared as were the class materials.

Very knowledgeable on the material and willing to stop and explain in detail some items to those who were not Auditors.

She is incredibly knowledgeable while being entertaining at the same time. She pretty much kept the class riveted.

Leita was great! She was very interactive and made the class fun. She was also very knowledgeable on the subject.

Leita does an excellent job of communicating the subject matter and keeping the audience engaged.

Leita made a dry subject interesting and imparted a great deal of information.

Great mini-projects, learned more working in groups.

SHE WAS GREAT!
---
"It's been a most entertaining and valuable learning experience and we thank you for making dry audit standards and principles so alive! "
— V.I. IG Auditor, November 2012
---
"As an audit manager, I will use a number of the tools to improve the efficiency of the audit unit."
— Audit Manager taking Lean Six Sigma for Government Auditors and Accountants, 12/11
---
"Loved the illustrations and well written.  Hard to believe I had trouble putting it down to take care of other work-related responsibilities."
— Internal Auditor taking Audit Reporting: Yellowbook Style, Sept. 2010
---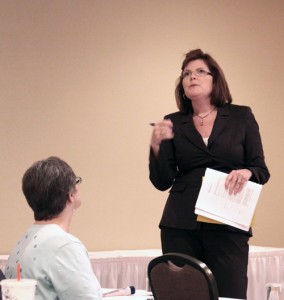 "Thank you for being honest, sharing your opinions, and having a sense of humor.  How refreshing!  I've been a CPA too many years, and taken a lot of CPE.  This is the most entertaining coverage of this challenging topic I've seen yet.  The Larry, Darrell, and Darrell bit was too funny.  The AICPA Yellow Book course was such a snore that I stopped after about 45 minutes.  Thanks!  Keep up the good work!"
— Carol Stachwick, CPA  Sr. Manager, Sonnenberg & Co, CPAs San Diego, CA
---
"I wish I would have had access to this seminar when I first started working on Yellowbook and OMB Section A-133 audits.  The book is very insightful and could have saved time and money in learning how to audit in the government world."
— Mark Striblen, CPA, Audit Manager
---
"I told my director that this was the best class I have ever taken. I have never taken a class that I hated to see come to an end."
— Basic Audit Skills Participant
---
"I have been ranting and raving to my peers, family and friends about your seminar… you had me on the edge of my seat just absorbing all the information you covered! Anyone that can teach [auditing]… in such a fun, exciting and upbeat way… deserves more than just KUDOS. I am already looking into other seminars you teach."
---
"I especially loved and appreciated the way you leveled the playing field so that even an inexperienced non-auditor like myself could participate."
— Monica, Internal Audit Intern
---
"Leita is one of the best instructors I have ever had. Leita reaches out to all participants—and doesn't leave anyone 'behind', which is amazing considering the diversity of the class."
— Basic Audit Skills participant
---
"Leita, it is rare to find such delightful writing in an accountant. Congratulations on integrating many skills into your work. What you write enriches me in areas that have nothing to do with performance auditing. Thanks."
---
"I just wanted to email you and tell you that having stumbled upon your site and glancing over the different items in your archive, I could not be happier to be reading this advice. Thank you."
— Dallas CPA
---
"I recently ordered one of your publications and I must say that it is the best book on the new SAS pronouncements that I have ever read. You certainly have a gift with words."
— Isaac N., CPA, North Carolina, 2008